Correctly designed high-pressure commercial RO system in bangladesh and Industrial Reverse Osmosis Models:
Are capable of scale back all dissolved analytes by 99% EXCEPT for Boron and Nitrates. Vital Boron commutation with its weak ionic charge requires particular membranes and better working pressures, particular pretreatment, or post-treatment. Nitrates require individual membranes and better pressures or post-treatment to succeed in 99% removing.
Will be constructed to attain one or two megohm high quality water with out the necessity for post-treatment akin to EDI or ion interchange DI tanks.
Have a membrane porosity from 0.0001 to 0.001 micron which makes it an efficient barrier to micro organism, viruses, cysts, and endotoxins.
Are capable of function with water efficiencies as excessive as 85%
Will operate with out membrane substitute or cleansing for five years or extra.
Present extraordinarily low hardness ranges appropriate for high-pressure boiler purposes
As an combination use 25% much less electrical vitality than they did a decade in the past due to enhancements in membrane know-how
Are provided with mix valves to allow tailoring of water constituents for brewers, distillers, espresso preparation, and bottlers.
Provide cost-effective pretreatment that eliminates CAPEX and OPEX of carbon filters and water softeners.
Will be custom-fabricated to suit supplied areas
Use controls which have a 10 years plus 100% reliability historical past.
Commercial RO system in Bangladesh And Industrial Reverse Osmosis Process :
1. Feed pump: In the kind of commercial reverse osmosis system feed pump is the first step. In commercial reverse osmosis system feed pump transfers water from the raw tank to the pre-treatment unit .if raw water tank is empty then feed pump ant total commercial reverse osmosis system will be automatically stopped.
2.Non-return bulb: In a commercial reverse osmosis system when you will stop the machine after passing the water by feed pump then the non-return bulb will guard the water to not coming back.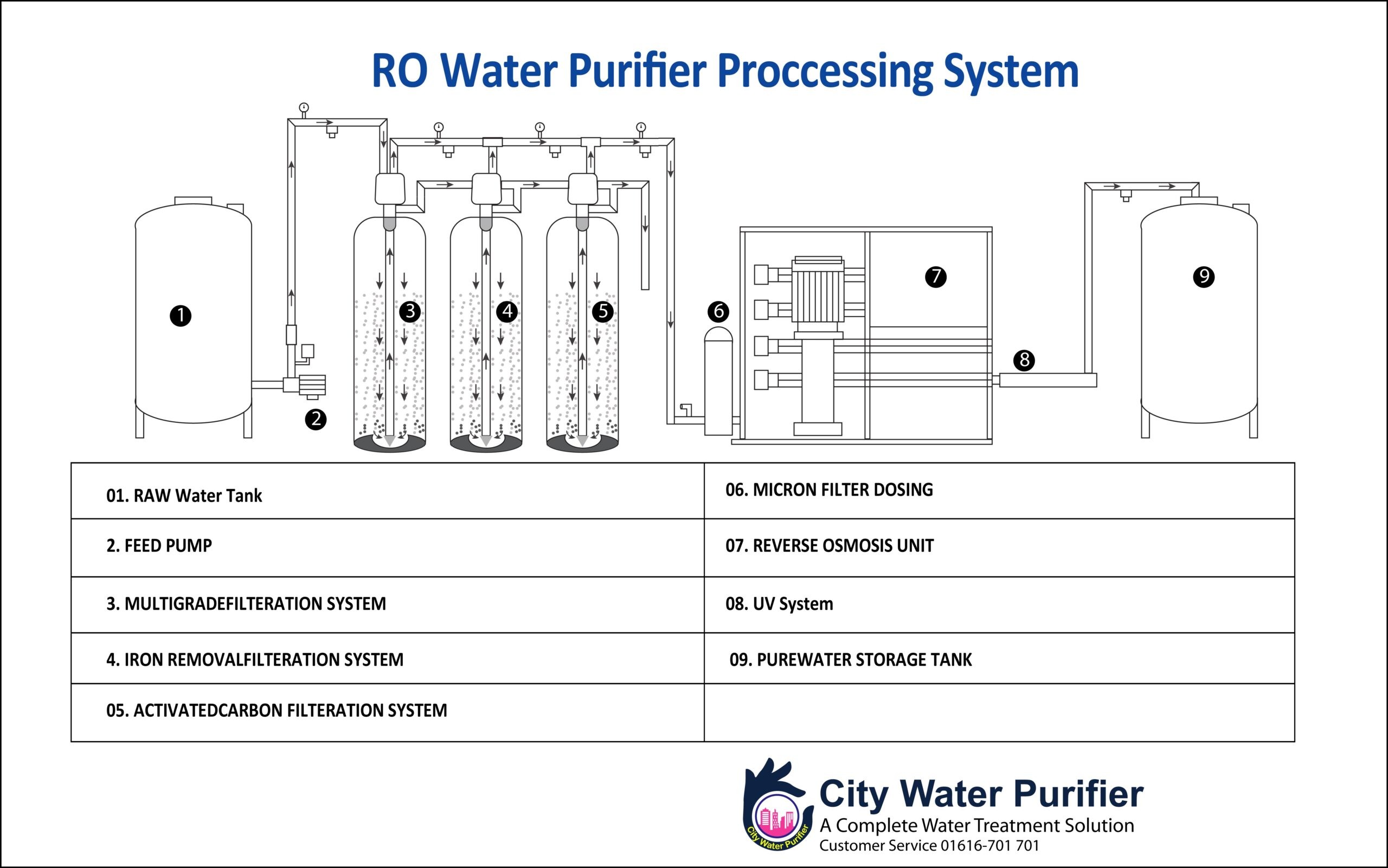 3.Feed pump pressure switch :In a commercial reverse osmosis system if any vessel or filter is block ,if the pressure is more then 4kg then the feed pump will automatically stop.
4.Water sample bulb: To justify the activity of chemical or filter in every step of a commercial reverse osmosis system ,you have to use water sample bulb to take water.
5.Multi Media filter :Media used-manganese zeolite, Anthracite, Birm, Sand, Gravel ):It removes iron arsenic ,rust, sulfer , manganese ,Drit turbidity ,bad taste, odor and even chlorine by using iron removal media in a commercial reverse osmosis system .
6.Sand filter : In a commercial reverse osmosis system sand filter reduce d cast and clean water.
7.Activated carbon filter :In a commercial reverse osmosis system activated carbon filter absorbs the dirt, lead, chlorine , mercury and bad taste and odor. By removing these particles it will reduce the turbidity and make the water crystal clear.
8.Backroom bracer: In a commercial reverse osmosis system if there is any late to coming water from feed pump to RO high-pressure pump then the backroom will protect the vessels from any damage. So that this bulb will drag air in the vessel of that commercial reverse osmosis system.
9. Micron filter: In commercial reverse osmosis system micron filter also known as security filter , because it cleans the water again and don,t spent any kind of dust before the water goes to the next step.
10.Antiscalant Dosing System :In your commercial reverse osmosis system you have to do antiscalant dosing to protect RO membrane form blocking.
11.High-Pressure pump:In commercial reverse osmosis system high-pressure pump works to supply the water through reverse osmosis membrane with high pressure.
12.Reverse osmosis unit: In commercial reverse osmosis system RO membren removes all kinds of bacteria.It is a special kind of filter which is 0.0001 micron in width.It only allows fluid to pass and also bypass other bacteria and harmful material.
13.Pressure meter: In a commercial reverse osmosis system the pressure meter will show the proper working level of media .
14.Level switch: when pure water tank is full in the commercial RO system in banglaadesh the RO machine will automatically stop.
[ N.B- In commercial reverse osmosis system all these process depends on raw water, so commercial reverse osmosis process might be changed according to the quality of raw water.