Expert Water Plant service providers in Bangladesh
Contact us today to discuss your water plant requirements.
Water Treatment Plant in Bangladesh
If you are looking for the best water treatment plant manufacturer in Bangladesh, then City Water Purifier will be the best choice for you. We understand and suggest the best choice according to your water condition. Our process begins with a deep understanding of your unique needs and challenges, ensuring our solutions are tailored to your requirements. From innovative design and installation to cutting-edge technology and ongoing monitoring, our process is designed to elevate water quality and redefine the standards of excellence in the industry.
Join us as we unveil the intricate steps that make City Water Purifier the trusted choice for water plant services in Bangladesh. Discover how we bring together expertise, innovation, and dedication to ensure that you, your family, and your community access pure, safe, and life-giving water. Explore our process and take the first step towards a healthier, happier future with City Water Purifier, Best water treatment plant supplier in Bangladesh.
Mobile 1: 01616-701701
Mobile 2: 01781-818182
citywaterpurifier@gmail.com
support@citywaterpurifier.com
Shatabdi Center, 292 Inner Circular Road, 3rd Floor, Room No-3k, Fakirapool, Motijheel, Dhaka-1212,  Bangladesh.
City Water Purifier is one of the best water plant service providers in Bangladesh. Since 2012 City Water Purifier has been working in every sphere of water purification all over Bangladesh. With 11 years of experience and successful water treatment service, we feel proud of our exclusive customer satisfaction. Your trusted partner in ensuring clean and safe water for households and businesses across Bangladesh. We are an importer of residential, commercial, and industrial Reverse Osmosis (RO) water treatment & other solutions. 
Your trusted destination for cutting-edge water plant services in Bangladesh. In a world where access to clean and safe drinking water is paramount, we are committed to revolutionizing water quality standards across the nation. Our service page is your gateway to discovering how City Water Purifier can be your partner in ensuring pure, contaminant-free water for your home, business, or community.
We understand the critical role that water quality plays in safeguarding health and enhancing the quality of life. Our water plant services are designed to address the unique challenges of Bangladesh's water landscape, where contamination issues persist. We use state-of-the-art technology, unwavering dedication to quality, and a customer-centric approach to deliver exceptional water purification solutions.
We understand that access to clean water is not a luxury; it's a fundamental human right. Our process begins with a deep understanding of your unique needs and challenges, ensuring that our solutions are tailored to your specific requirements. From innovative design and installation to cutting-edge technology and ongoing monitoring, our process is designed to elevate water quality and redefine the standards of excellence in the industry.
4 Steps of Water Treatment Plant:
Stage 1: The initial phase is referred to as primary care. It extracts and settles the wastewater's solids. After passing past the screen, it proceeds steadily to a space known as a grit or sedimentation tank.
Stage 2: Some helpful bacteria and other tiny creatures consume water waste and help in cleaning. The waste is consumed via a procedure known as activated sludge. It was then cleaned once more and allowed to settle in a different sedimentation tank
Stage 3: This is what is referred to as tertiary care. The additional contaminants are helped to be removed at this stage. Like phosphorus and nitrogen.
Stage 4: Disinfection therapy is the final stage. It eliminates 99% of any dangerous bacteria still present in the water. It does this by using chlorine.
Our Water Plant Services Overview
Water Treatment Plant Design and Installation
Our team of experienced engineers and technicians specializes in designing and installing water treatment plants tailored to your specific requirements. Whether it's a residential, commercial, or industrial setup, we have the expertise to create a customized solution that ensures clean and safe water.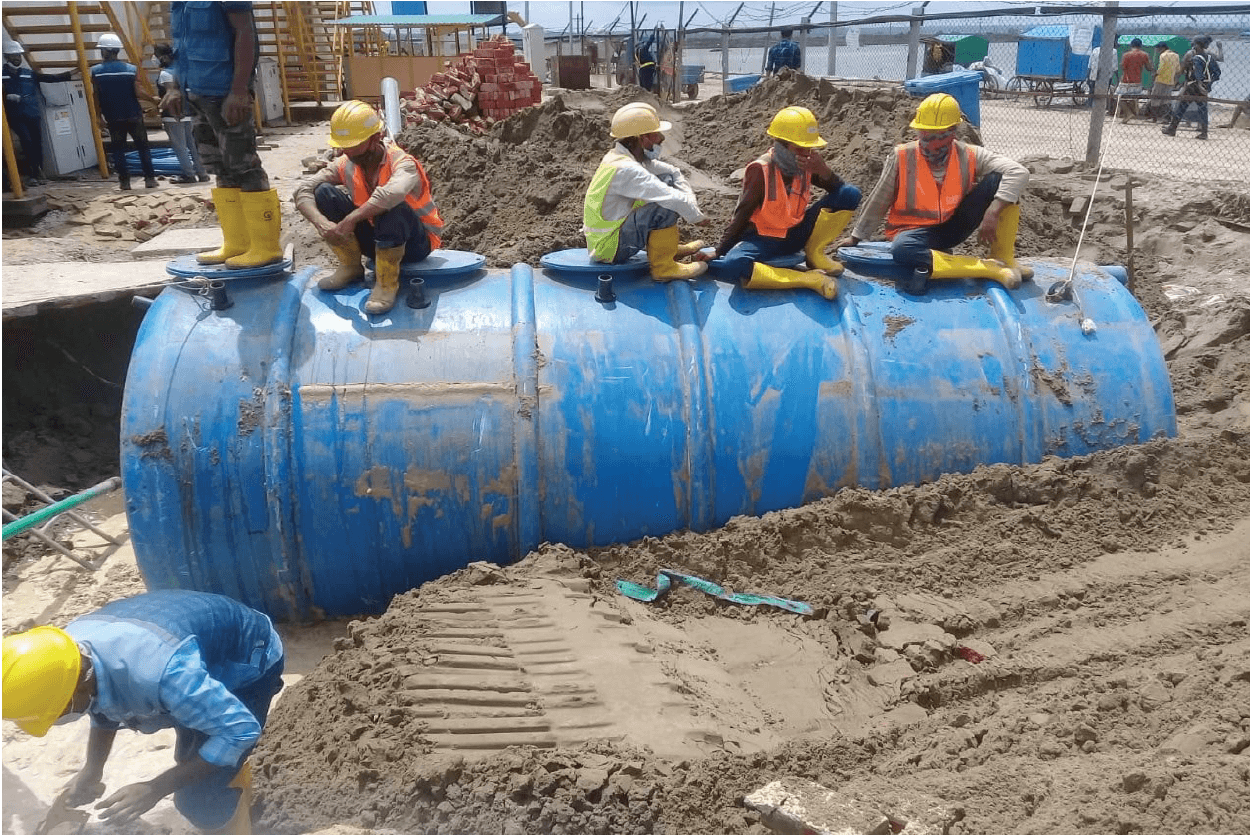 Water Plant Maintenance and Repairs
Proper maintenance is key to the longevity and efficiency of water treatment plants. We offer routine maintenance and prompt repair services to keep your plant operating at its best. Our technicians are available 24/7 to address any issues and minimize downtime.
Water Quality Testing and Analysis
Ensuring water quality is paramount. We provide comprehensive water quality testing and analysis services to identify and address any contaminants or issues that may affect the purity and safety of your water supply.
As technology advances, it's essential to keep your water treatment plant up to date. We offer upgrades and retrofitting services to enhance the performance, efficiency, and environmental sustainability of your existing plant.
Not sure where to begin with your water treatment needs? Our experts are available for consultations to assess your requirements, recommend the most suitable solutions, and provide guidance throughout the project.
We understand that each client's water treatment needs are unique. Our ability to develop and implement customized solutions ensures that your water plant meets your specific goals and objectives.
Types of Water Plants We Serve
There are various steps involved in establishing a WTP plant in Bangladesh, including:
● Raw Water Analysis: Analysis of the source water, often known as "raw water," is done to identify any potential contaminants and to establish the quality of the water.
● Water treatment plant design: Based on the findings of the study and the intended production capacity, the WTP Plant layout and specifications are designed.
● Equipment Selection: Equipment selection involves choosing the proper water treatment tools, such as reverse osmosis systems, UV sterilizers, ozonation units, and filtering systems, to correspond with the demands placed on the water quality.
● Installation and commissioning: Setting up the full water treatment system and installing the chosen equipment. Testing and fine-tuning the plant during commissioning ensures optimal operation.
● BSTI License: Getting a BSTI license allows you to operate a mineral water plant in compliance with all legal standards by obtaining the required certification from the Bangladesh Standards and Testing Institution (BSTI).
● Marketing Strategy: Creating a thorough marketing plan to advertise the Water Plant and its goods in the neighborhood.
12 Month Treatment Service
Certificates
Our Charges
Guarantees
Gallery
Reviews
Contact Us
Locations
Dhaka Division
Chittagong Division
Barisal Division
Rangpur Division
Khulna Division
Rajshahi Division
Mymensingh Division
Sylhet Division