Expert Iron Removal Plant Service Providers in Bangladesh
Contact us today to discuss your water plant requirements.
Your Trusted Source for Iron Removal Plant Services
City Water Purifier is here to provide you with effective and efficient solutions for your Iron Removal Plant. Our commitment to ensuring clean, clear, and safe water for both residential and commercial settings has made us a trusted name in the water treatment industry. In this comprehensive service page, we will focus on iron removal plants and various aspects related to them, such as design, cost, and their applications for home and water treatment.
If you are looking for the best water treatment plant manufacturer in Bangladesh, then City Water Purifier will be the best choice for you. We understand and suggest the best choice according to your water condition. Our process begins with a deep understanding of your unique needs and challenges, ensuring our solutions are tailored to your requirements. From innovative design and installation to cutting-edge technology and ongoing monitoring, our process is designed to elevate water quality and redefine the standards of excellence in the industry.
Mobile 1: 01616-701701
Mobile 2: 01781-818182
citywaterpurifier@gmail.com
support@citywaterpurifier.com
Shatabdi Center, 292 Inner Circular Road, 3rd Floor, Room No-3k, Fakirapool, Motijheel, Dhaka-1212,  Bangladesh.
City Water Purifier is one of the best water plant service providers in Bangladesh. Since 2012 City Water Purifier has been working in every sphere of water purification all over Bangladesh. With 11 years of experience and successful water treatment service, we feel proud of our exclusive customer satisfaction. Your trusted partner in ensuring clean and safe water for households and businesses across Bangladesh. We are an importer of residential, commercial, and industrial Reverse Osmosis (RO) water treatment & other solutions. 
Your trusted destination for cutting-edge water plant services in Bangladesh. In a world where access to clean and safe drinking water is paramount, we are committed to revolutionizing water quality standards across the nation. Our service page is your gateway to discovering how City Water Purifier can be your partner in ensuring pure, contaminant-free water for your home, business, or community.
We understand the critical role that water quality plays in safeguarding health and enhancing the quality of life. Our water plant services are designed to address the unique challenges of Bangladesh's water landscape, where contamination issues persist. We use state-of-the-art technology, unwavering dedication to quality, and a customer-centric approach to deliver exceptional water purification solutions.
We understand that access to clean water is not a luxury; it's a fundamental human right. Our process begins with a deep understanding of your unique needs and challenges, ensuring that our solutions are tailored to your specific requirements. From innovative design and installation to cutting-edge technology and ongoing monitoring, our process is designed to elevate water quality and redefine the standards of excellence in the industry.
Understanding Iron Contamination in Bangladesh
Iron contamination in water sources is a prevalent issue in Bangladesh, affecting both well water and municipal supplies. This issue is not only widespread but can have various adverse impacts on your water quality and appliances. Here's a closer look at the challenges posed by excess iron in your water:
Stains and Discoloration: High iron levels in water lead to stubborn reddish-brown stains on sinks, toilets, and laundry. These unsightly stains not only affect the aesthetics of your home but can be challenging to remove.
Taste and Odor Issues: Water contaminated with iron often carries a metallic taste and an unpleasant odor, which makes it unappealing for drinking and cooking.
Appliance Damage: Iron buildup in plumbing systems, water heaters, and other appliances can cause clogs, reduced efficiency, and damage over time, leading to costly repairs and maintenance.
Reduced Water Pressure: Iron deposits can accumulate in your plumbing, causing reduced water pressure and flow, which can be frustrating and inconvenient.
To address these challenges and enjoy high-quality, iron-free water, you need an efficient and reliable iron removal plant.
Our Iron Removal Plant Services in Bangladesh
At City Water Purifier, we understand the unique water quality concerns faced by residents and businesses in Bangladesh. Our iron removal plant services are designed to meet these specific challenges head-on, ensuring water quality that not only complies with industry standards but exceeds your expectations.
Water Treatment Plant Design and Installation
Our team of experienced engineers and technicians specializes in designing and installing water treatment plants tailored to your specific requirements. Whether it's a residential, commercial, or industrial setup, we have the expertise to create a customized solution that ensures clean and safe water.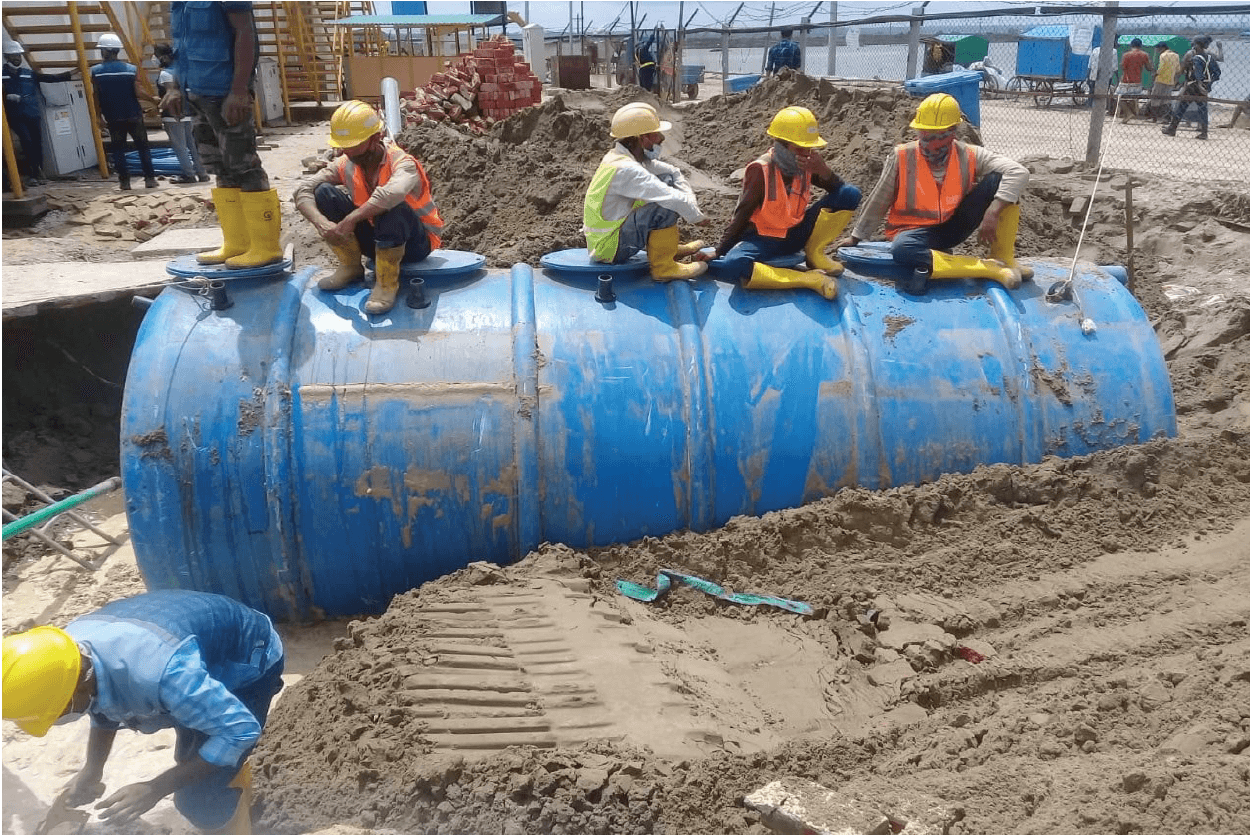 Water Plant Maintenance and Repairs
Proper maintenance is key to the longevity and efficiency of water treatment plants. We offer routine maintenance and prompt repair services to keep your plant operating at its best. Our technicians are available 24/7 to address any issues and minimize downtime.
Water Quality Testing and Analysis
Ensuring water quality is paramount. We provide comprehensive water quality testing and analysis services to identify and address any contaminants or issues that may affect the purity and safety of your water supply.
As technology advances, it's essential to keep your water treatment plant up to date. We offer upgrades and retrofitting services to enhance the performance, efficiency, and environmental sustainability of your existing plant.
Not sure where to begin with your water treatment needs? Our experts are available for consultations to assess your requirements, recommend the most suitable solutions, and provide guidance throughout the project.
We understand that each client's water treatment needs are unique. Our ability to develop and implement customized solutions ensures that your water plant meets your specific goals and objectives.
Simple Iron Removal Plant Design
Our Iron removal plant in Bangladesh Appropriate for Residentials like
Flats, house , and Properties.
Instructional Establishments like school ,college ,university, Hotel and Resorts, Hospitals, Municipality water provider, Pharmaceutical wants & Industries.
Benefits of City Water Purifier's Iron Removal Plants in Bangladesh
Choosing City Water Purifier for your iron removal plant needs in Bangladesh will not only grant you clean, iron-free water but also deliver a host of additional advantages:
1. Improved Water Quality: Bid farewell to unsightly rust stains and the unpleasant metallic taste. Our iron removal plants ensure that your water is pure, clear, and free from odor.
2. Extended Appliance Lifespan: The removal of iron from your water can extend the lifespan of your appliances, plumbing, and fixtures, potentially saving you a substantial amount on repairs and replacements.
3. Enhanced Water Pressure: By eliminating iron buildup in your plumbing system, we can help restore water pressure and flow to optimal levels, ensuring that you have a consistent and reliable water supply.
4. Healthier Water: Clean water isn't just about aesthetics; it's about your health. Our systems guarantee that you have access to the highest-quality water for drinking and cooking, contributing to your overall well-being.
5. Environmentally Friendly: Using clean water has a positive impact on the environment. Less iron buildup means reduced waste and fewer resources spent on repairs, making your water usage more eco-friendly.
6. Increased Property Value: A reliable iron removal system can increase the value of your property, making it more appealing to potential buyers or renters.
Types of Water Plants We Serve
Contact us for Iron Removal Solutions in Bangladesh
If you're dealing with iron-contaminated water, don't wait any longer to address this issue. City Water Purifier is your trusted partner in providing effective iron removal plant services. Our expertise, cutting-edge technology, and commitment to customer satisfaction make us the top choice for all your water quality needs.
To learn more about our iron removal plant services or to schedule a consultation, please contact us today. We look forward to helping you enjoy the benefits of clean, clear, and odor-free water. City Water Purifier – your reliable source for water purification solutions.
12 Month Treatment Service
House Hold Water purifier Service
Iron Removal Plant
Demineralization Plant (DM)
Reverse Osmosis Plant (RO)
Effluent Treatment Plant (ETP)
Waste Water Treatment Plant (WWTP)
Swimming Pool Water Treatment Plant
Drinking Water Plant (DWP)
Industrial softener
Water Treatment Plant (WTP)
Sewage Water Treatment Plant (STP)
Booster Pump and Pumping systems
Certificates
Our Charges
Guarantees
Gallery
Reviews
Contact Us
Locations
Dhaka Division
Chittagong Division
Barisal Division
Rangpur Division
Khulna Division
Rajshahi Division
Mymensingh Division
Sylhet Division