Best Water Filter service In Baridhara
Through City Water Purifier, you can connect with trusted water filter services in Baridhara. We provide users with a broad network of knowledgeable and experienced water filter specialists in Baridhara. Get the best drinking water possible by resolving your water filter problems.
We understand the importance of timely and efficient service, which is why we offer 24-72 hour service and 12/7 emergency support. Our technicians will arrive at your location fully equipped with the tools and parts needed to get your water purifier running smoothly again.
👉 Book your online Service !!
Why Choose City Water Purifier?
Water filter Service & Installation in Baridhara
We at City Water Purifier marketplace give you a platform where you can quickly hire the best water purifier servicing nearby. We work hard to provide you with the best service through our team of dependable, skilled service providers. Today, ordering water purifier and water filter delivery service is simple. This service includes installing new water purifiers, taking apart old ones, replacing kits, and doing full water purifier maintenance.
Through using City Water Purifier to find the best water purifier specialists who can meet your needs, you can save time and effort. We will help you with the services you desire if you let us know your needs. Based on your needs, service providers for water purifiers will be identified, and they will get in touch with you by phone or SMS to discuss price quotes and offers. You can compare, examine, and hire the specialists who best suit your requirements.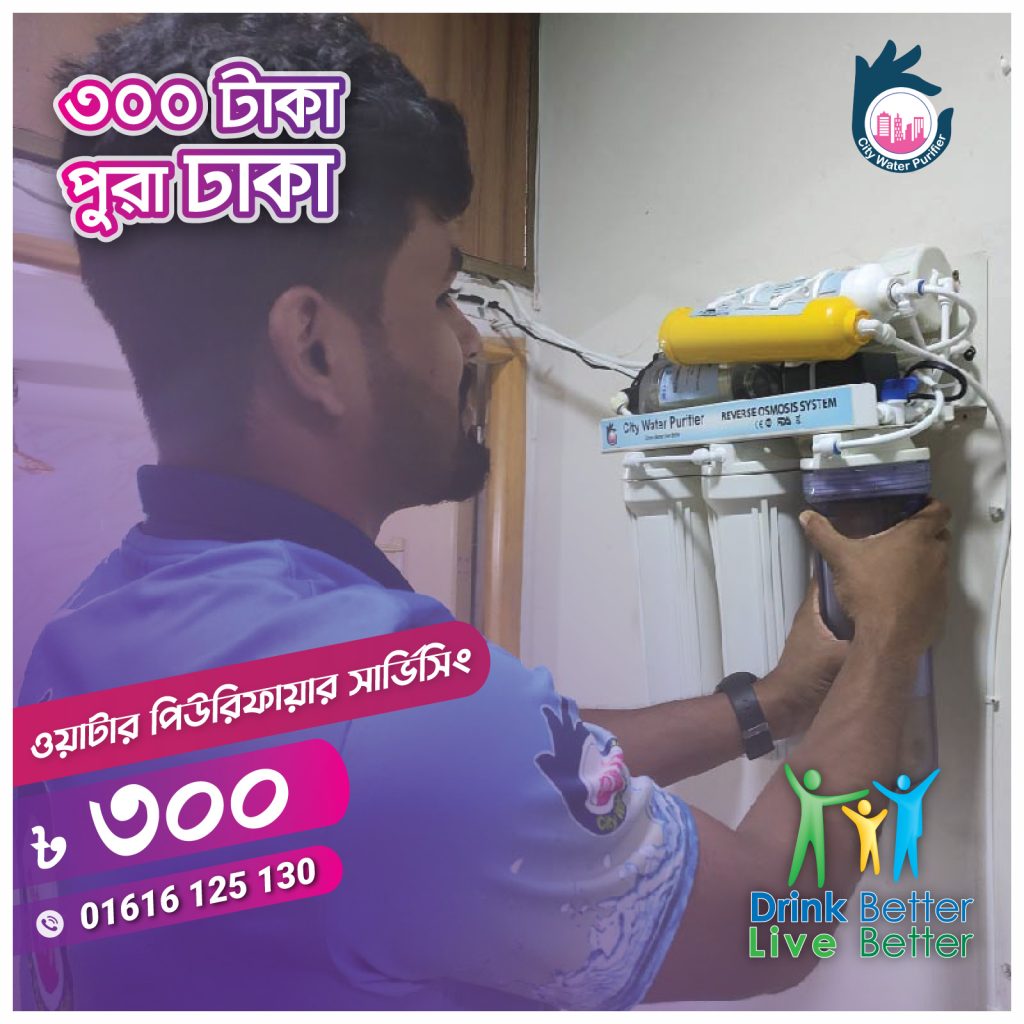 All Kind of Household Water purifier we repair
Book your online Service !!
Important Things To Know!
Total Dissolved Solids is referred to as TDS. TDS is a measurement of water's electrical conductivity. In other words, it determines the water's purity.

Drinking water is considered healthy if TDS is less than 10%.

Even if the water's TDS is less than 10%, regular maintenance is advised every three to six months.

Every nine to twelve months, thorough maintenance is advised. Changes to pre-filter candles, sediment filters, carbon filters, and membranes are all included.
Warranty: citywaterpurifier provides a 7-day service warranty. However, the warranty on consumable materials/parts is determined by the manufacturer.
Safety Measures: Customer will be solely responsible for their personal accessories as well as the security of household resources.
Discharging: After the service is completed, the customer automatically releases citywaterpurifier from any further liability.
Service Fee: Our service charge is 300tk inside Dhaka. The cost of installation equipment is dependent by the services you provide.
Emergency Service: For emergency services, there is an additional fee.
Frequently asked questions
See the outcomes of our most recent Client Satisfaction Survey, as well as valuable customer testimonies,
to see how we create great working partnerships by knowing individual needs and having market knowledge